Kormotekh marketing team when carrying out the national communication campaign "Joined by love" from Club4Paws™ (leading pet food brand) involved Digital Advertising Agency PUSH-K Solutions to develop gift promotion mechanics – to gift the consumers phone cases for product purchasing. Not just phone cases, but cases with prints made by customers themselves. Such projects require special attention to detail and high web developers level, these have always been our advantages. It`s nice promotion in Ukraine. We will share some details here.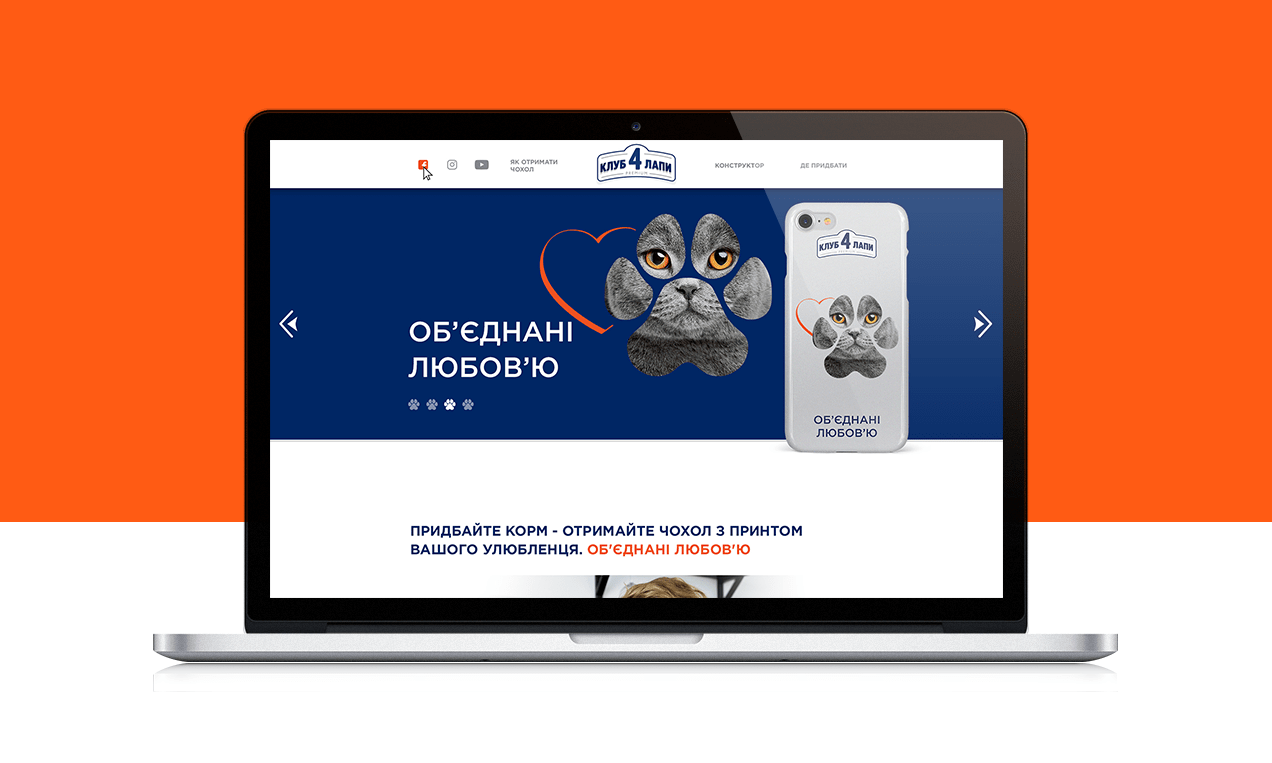 As the basis of the project it was necessary to develop promotional website with special feature – graphic editor, into which user can upload a pet`s photo and create unique print using this photo. After unique print is created, user saves artwork and receives phone case with personal print at the nearest delivery service point in few days.
Cases for almost all phone models are available at promotional website. The list of models is synchronized with the manufacturer`s database so if any phone case model is out of stock the system will keep website visitor from choosing absent phone case.
It is gift promotion activity so to get unique phone case, you should purchase Club4Paws™ pet food at online stores that support the "Joined by Love" communication campaign. To be sure that the website visitor is the true consumer, we use generated by online stores purchasing order ID that should be entered at promotional website. The website is synchronized with partner stores and always distinguishes the true order ID from the fake one. When the user has entered his order ID, the system checks it and in case of a positive result, the user receives an SMS notification, and the manufacturer receives the approve for production as well as graphic elements and delivery details.
The Club4Lap™ identity was used when creating promotional website design. "Joined by Love" campaign graphic elements were used too. Additionally, we added the new design features – paw pads that accompany the visitor during the journey through the website. It turned out very nice project and we hope that it will allow the brand to get more followers.
PROMOTIONAL WEBSITE MAIN PAGE


PROMOTIONAL WEBSITE ADAPTIVE DESIGN FOR MOBILE DEVICES AND BROWSERS