Product Key Visual for Agilis jet tenders is the concentrate of main things which the brand wants to say the consumer.
To create such a marketing artwork, you should go deep into the product, researching it and highlight the most important features in order to put it in text and graphics. We went this direction too. But when highlighting the most important benefits*, we realized that the volume of advantages is for a book, not a poster.
*the basic benefits list 8)

Speed & stability. Modern engines and light hulls with advanced hydrodynamics ensure excellent agility and control stability.
Safety. No external propellers in engine design, so swimming near tender is safe, and there is no any risk to damage propeller when bеаching.
+ All models are equipped with an automatic fire extinguishing system. The system detects fire automatically immediately after outbreak.
Reliability. A closed-loop cooling system prevents corrosive saltwater from entering the engine ensuring its long life.
Eco-friendly. The engines are environmentally friendly with minimum harmful air pollutants.
Premium technical solutions. Steering wheel, dashboard, electronic reverse system.
Deck and materials. Seats, teak deck, ORCA fabric, xxxxxx inserts, xxxxxx fiberglass.
Yacht building standards addicted. Agilis tenders are designed for first-class yachts and meet the highest standards of the yachting industry.
Sizes for Yacht garages. Our customers may pick a right tender size fitting just their needs from the wide range of model size grid for any yacht design.
Entertainment. Built-in Bluetooth player and speakers
Service. Our experts are always here for you for professional support. We always have enough spare details in stock.
Style customization. Your tender – your style. To customize your tender, just pick from a variety of deck or hull styles and insert colors from a rich palette.
Technical customization. Your tender may be upgraded with advanced hardware such as chartplotter, xxxxxxxx, xxxxxxxxx. Even engine options are available for some models to meet consumer expectations.
Rich basic equipment. All the necessary equipment is already included as standard: storage room, a towing set, and lifting pad eyes.
Made in Germany. Expected quality level.
We had to optimize this large detailed tenders' advantages list. We`ve ranked advantages by importance, hided less important ones, some with close meanings where united to one. Several stages of such optimization, tries, search for marketing and text writing compromises brought us to the short and meaningful final Key Visual text. The main message is CUSTOM. LUXURY. JET. accompanied with short description for each word.
Key Visual final text:
CUSTOM. Agilis tenders can be customized because deck, hull, insert colors and technical equipment are variable and may be combined. Your tender will fit your needs and your yacht design.
LUXURY. Luxury materials and technical solutions adhere to highest yachting standards. Steering wheel, dashboard, electronic reverse system, teak deck, ORCA fabric as well as dozens of other details are designed to accompany the first-class yachts.
JET. Modern jet engines without external propellers as well as Agilis light hulls grant speed, stability and safety.
Then it's up to the visual concept. How to highlight our messages and show the product? We sketched, discussed… and we`ve developed needed layout and elements list for future design. We`ve saved the firs rude sketch which served as main internal reference for further Key Visual development.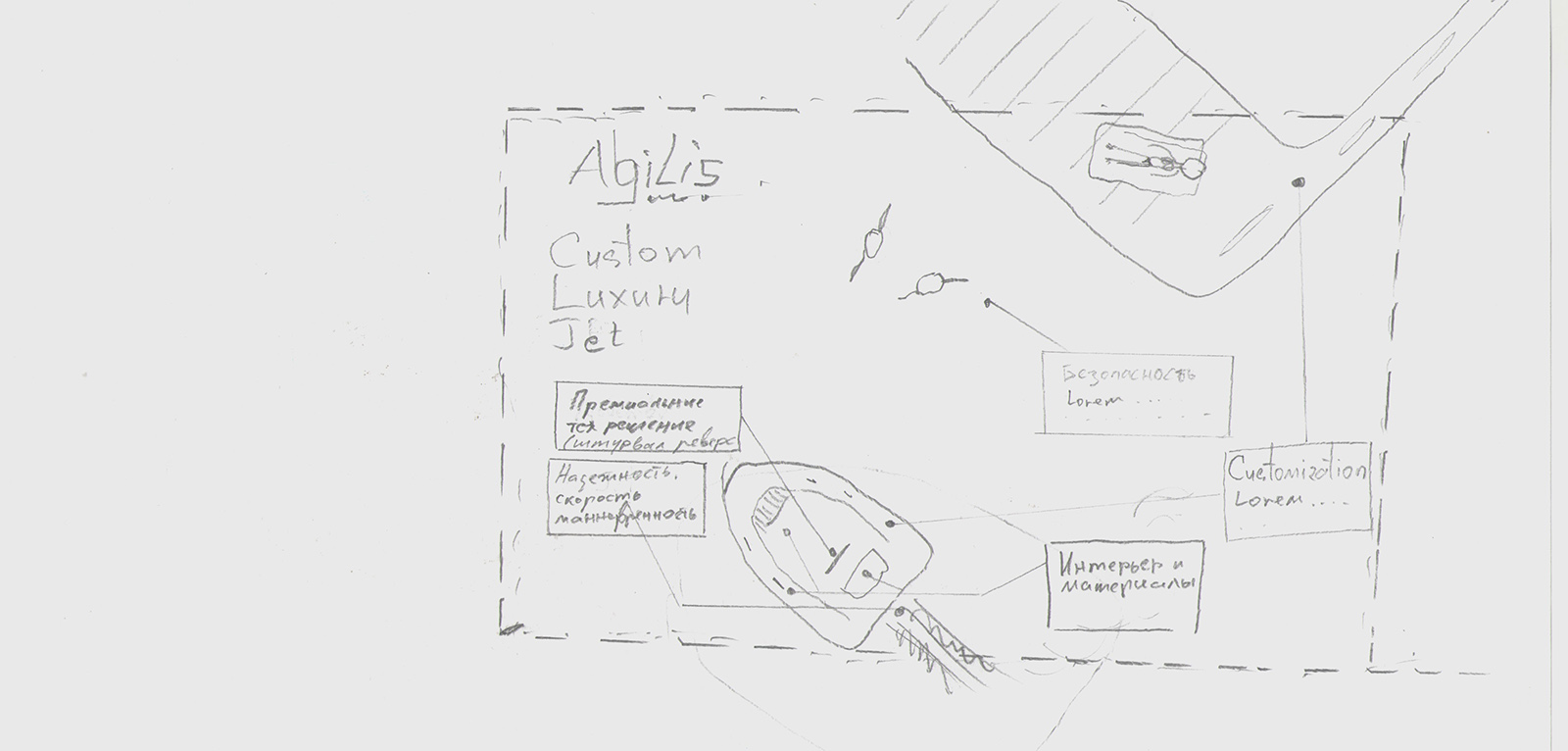 Our talented designers found all the puzzle pieces, put them together, drawn some details, effected with retouching and photo correction, and added some own solutions. The result is that three Key Visuals were shown to the client, and all three were accepted, although to choose one it`s regular practice. Key Visual artwork filled the vacuum of marketing materials and gave solutions (ideas, text, graphics) for digital communications, video production, website and social media design, product catalog design and much more for what.