Our team has developed the corporate website for the Berdyansk Cable Plant. It`s the enterprise with a great history, high-tech production and a wide geography of supplies. The plant produces high-quality and safe cable and wire products for large list of economic sectors, the main of which are the energy industry, nuclear energy, mining, mechanical engineering, construction sector, transport sector and cities utilities.
This corporate website presents the full range of the plant's cabling and wiring products, segmented into 4 global categories: Industrial сables and wires, Self-supporting insulated wires for overhead power lines, Mining industry, Cables and wires with XLPE insulation. Each category is divided into subcategories, so the customer will find the necessary products at the website easily.
Each product has detailed information: purpose, application, section with comments on the design, technical characteristics. Each product is accompanied with its 3D visualization, thanks to which it is clear from which layers and how each product is produced. All selected products can be added to the cart, accompanied by comments and sent as the request to the Berdyansk Cable Plant sales manager, who will provide customer with comprehensive information and a commercial offer.
The corporate website has its own unique style, which successfully combines industrial brutality (large objects, fonts) and the modern lightness of the frontend (dynamism, interactivity and speed). A well-thought-out UX design allows the user to get the necessary information quickly and conveniently, whether it is a product page, or reference information about current loads, or an ISO certificate of conformity.
We are confident that this corporate website will help Berdyansk Cable Plant to achieve its business goals, to expand the geography of supplies and the circle of customers.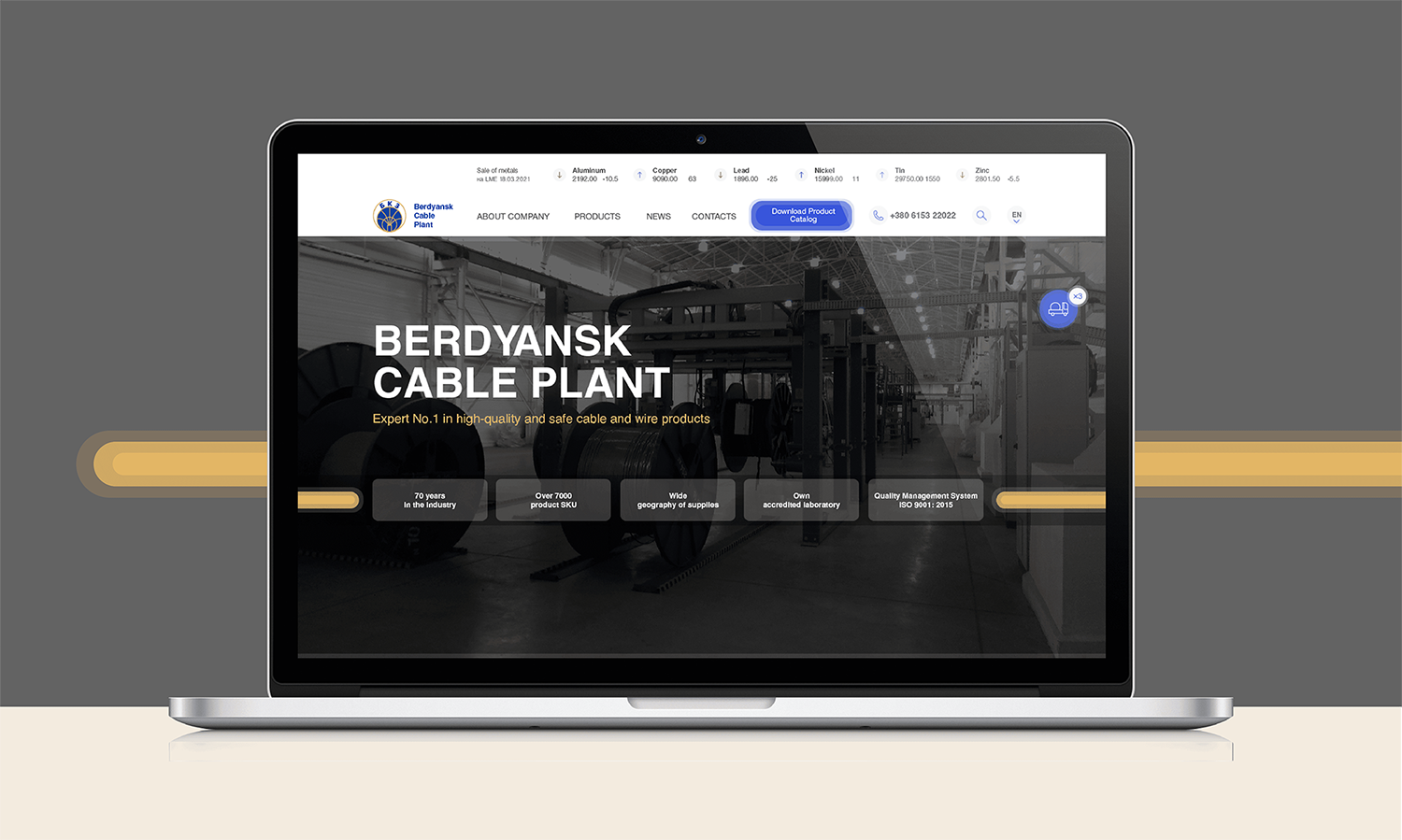 CORPORATE WEBSITE MAIN PAGE


INTERNAL  PAGES


ADAPTIVE WEB DESIGN FOR MOBILE DEVICES AND BROWSERS